About Us
Established in 2004, Xiamen Obaili Industry and Trade Co., Ltd. has been specialized in making bags for 17 years.We are one of the most influential bag enterprises in Xiamen! The company specializes in production and processing: cooler bags, drawstring bags,Non-woven bags, shopping bags, handbags, travel bags, backpacks, briefcases, diaper bags, tool bags and other outdoor leisure bag products for tourism, sports and camping.
The company has a factory area of more than 20,000 square meters, we have our own design, R & D team and have obtained 30 utility model patents, 17 design patents, currently the company has more than 200 employees, 3 production workshops, 12 sewing machine production lines, 2 packaging lines, 7 cutting lines, and has hundreds of professional equipment
R & D department using computerized automatic plate opening, cutting plate system,and there are 5 pattern makers and 16 sample technicians in the R&D department, so we can develop samples quickly and send new models for customers' choice from time to time every month.
Now the company has passed the factory inspection of many large customers in Europe and America and ISO-9001 quality management system certification, and obtained the third-party factory inspection audit certificates of BSCI, SEDEX, DISNEY, QCA, etc. We have long-term cooperation with many brand customers, such as: DYSON, IGLOO, ASICS, VIRGIN ACTIVE, DISNEY, etc. We always adhere to one principle: quality first, integrity-based, win-win cooperation!
一、History Timeline
Year 2004, Obaili is founded with a registered capital of RMB 50 thousands and a factory area of 1000 square meters
Year 2006, Obaili moves out of the basement into a 5000 square meters factory
Year 2008, Obaili establishes foreign trade department
Year 2009, Obaili increases its registered capital to RMB 8 million and obtains ISO9000 certificate.
Year 2010, Obaili moves again, factory area expands to 8000 square meters.
Year 2012, Obaili establishes branch of the Communist Party of China
Year 2013, Obaili buys factory again, factory area expands to 20,000 square meters.
Year 2018, Obaili builds strategic partnership with Dyson
Year 2019, Obaili passes BSCI, SEDEX certificates.
Year 2020, Obaili obtains FCCA certification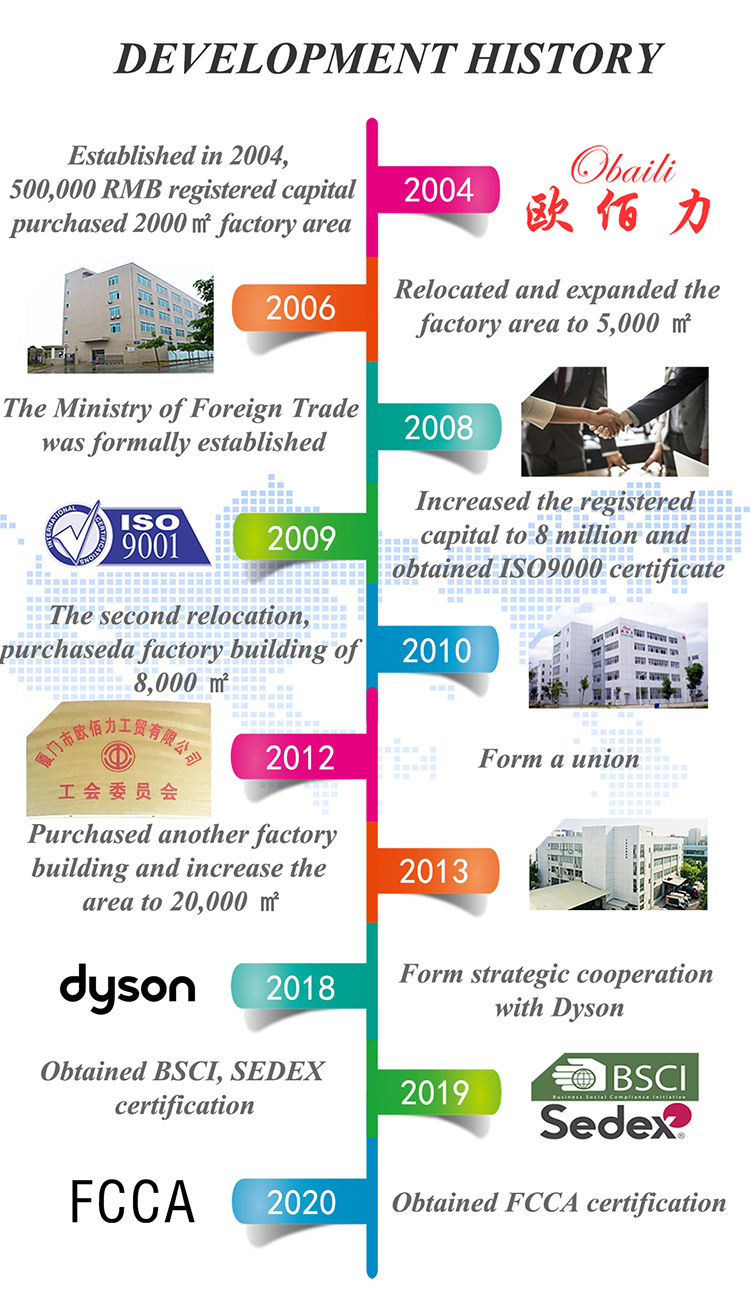 二、Company Performance
2009----6000W Year 2009, turnover RMB 60 million
2010---7800W Year 2010, turnover RMB 78 million
2011---9500W Year 2011, turnover RMB 95 million
2012—突破1亿 Year 2012, turnover over RMB 100 million
Year 2013, turnover RMB 130 million and growing at 20-30% per year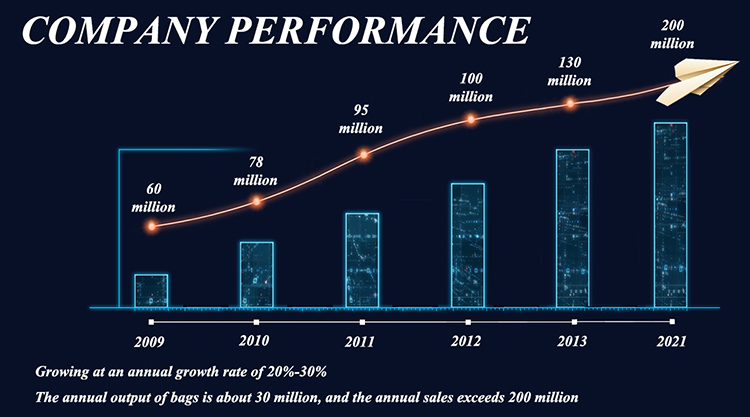 三、Social responsibility
Since 2010, Obaili has been awarded the million taxpayers and A-grade credit taxpayers every year
Year 2013, donated 1 million RMB to the Tongan Chamber of Commerce Love Foundation
Solving the employment problem for 200-600 people per year
四、Owner Biography
The boss is a loyal member of the communist party of China, from childhood he is a student with excellent grades, after graduation he enters the state-owned enterprises, with their own efforts he rose to the vice president of state-owned enterprises in only 2 years. In his heart, he has always harboured a vision to sell Chinese bags to the world. So in 2004, he officially established Xiamen Obaili Manufacturing Ltd., a purely export-oriented bags enterprise, which has now been specialized in making bags for 17 years and become a loyal partner of thousands of customers. In line with the people-oriented concept, he treats his staffs as part of his big family, always cares about their work and life, and is committed to building the company into a platform for employees to realise their dreams, striving to create a fair, just and open environment, with the principle of distribution according to work, to give person who really want to work hard a good platform and a good income.
1、Company values: Integrity of conduct, Progressive, Quality, Innovation
2、Company mission: To create better value for our customers, employees and suppliers, to continuously inject positive energy, to achieve sustainable development and to achieve a win-win situation.
3、Company platform: Create an open, fair and equitable competition platform for employees and suppliers